Due to the enormous health advantages of yoga, it is no surprise that more and more people are showing their interest in becoming yoga teachers nowadays. If you are the one, who are enthusiastic about yoga and want to become a yoga instructor, this article is for you.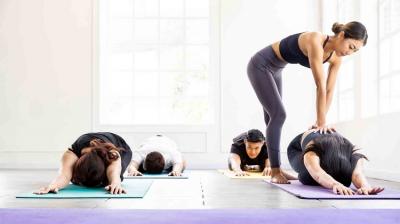 Steps To Become A Yoga Teacher:
Develop A Regular Yoga Practice:
The first step towards becoming a yoga teacher is to develop a consistent yoga practice. Regular practice of yoga can help you to gain a deeper understanding of the poses, their effects on the body, and the philosophy behind the practice. It is essential to experience the benefits of yoga for yourself before you can teach it to others.
Select A Yoga School And Style:
Yoga is a diverse practice with a wide range of styles and schools, so it is important to choose the one like
Yoga Teacher Training in India
. Some of the most well-known yoga forms are Hatha, Vinyasa, Ashtanga, and Bikram. Find a school that matches your values and interests by researching the various styles.
Attend A Yoga Teacher Training Program:
A yoga teacher training program is essential to become a certified yoga teacher. The duration of this program can vary, but it usually ranges from a few weeks to several months. During this program, you will learn about the history and philosophy of yoga, anatomy and physiology, teaching methods, and how to sequence a yoga class. It is important to research the different programs and choose the one that meets your budget and needs.
Practice Teaching:
Teaching yoga is a great skill that requires more practice, so it is crucial to get experience by teaching others. Start by practicing with your loved ones or by volunteering to help out in a yoga session. Gaining confidence, receiving feedback, and developing your teaching abilities may all be facilitated by teaching others.
Get Certification And Insurance:
Obtaining certifications and insurance is important for protecting you and your students. Several yoga classes require teachers to be certified and insured. You can obtain your certification through Yoga Alliance and insurance can be purchased through insurance providers that specialize in yoga insurance.
Benefits Of Teaching Yoga:
Teaching yoga is a perfect career that offers several benefits. The following are some of the key benefits of teaching yoga:
Help others: You may contribute to the physical, mental, and emotional well-being of others by teaching yoga. Yoga can improve strength, flexibility, and balance while reducing stress, anxiety, and depression.
Personal growth: Teaching yoga can also help you to grow personally. You will learn more about yourself and your own practice as you guide others. This can help you to deepen your own understanding of yoga and cultivate a deeper sense of self-awareness.
Conclusion:
Becoming a yoga teacher is a meaningful and rewarding career that offers several benefits. Teaching yoga not only helps others to improve their general well-being but also allows you to grow personally and professionally. So, if you have a passion for yoga and a desire to help others, start your career as a yoga teacher.