Whether you've played darts as a hobby for years or just starting to feel the taste, there is only one way to become a very good player: with the help of top quality equipment. High quality equipment is vital and you also need to learn how to choose the best darts to buy; it is only in this way that you will manage to improve your game and maybe even go to the next level. So, do you need some help with learning how to choose essential darts equipment? We are more than happy to share our knowledge with you, so read below and get some extra info on darts equipment.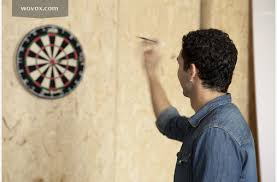 The dart board- of course that if you want to practice as much as possible to improve your game, the first thing you need is a dart board. These are available in all sorts of materials, from wood to plastic. We recommend you something rough and tough if you want it to last longer and don't want to invest too much time in maintenance work.
The darts- obviously, you will need a set of darts as well. Since you will probably have to replace them quite often, we suggest not to purchase the most expensive ones on the market. There are plenty of options at affordable price rates, so these are the ones you should check.
When it comes to buying the right darts, there are a few features to take into consideration, apart from the price rate. Check them below and we can assure you that thanks to them, you will end up choosing the right darts.
1. Dart barrels- the barrels are important because the grip depends on them. If you don't get a good grip of the dart, then you won't be able to easily and efficiently make your throws. The best barrel grip is the one that best suits your fingers, so the only way to make a wise choice in this respect is to visit physical shops and test a few styles.
2. Dart shafts- these are available in a number of styles, as well as a few types of materials. If you are interested in something that is easy to use, as well as cost-effective, then the best choice available is the plastic shaft or the nylon shaft.
3. Dart flights- if you want to personalize your darts and show your creativity, then make sure that you purchase darts with the right flights. They can be personalized in any way.
4. Dart weight- most darts are available within the weight range of 16 to 50 grams. The perfect weight is the one that is perfect for you. Check a few ranges and opt for the one that you feel most comfortable with.
There are a few things to consider when preparing to buy equipment for darts. However, if you pay attention to the right details, you can be sure that you will make the right choice. There are plenty of good choices available and I know that you will find all the right ones.